As a golfer, you know that one of the most important pieces of equipment you need is a reliable and practical golf bag. But with so many options on the market, it can be challenging to find one that fits your unique needs and personal style. That's where the Ping Hoofer Lite Stand Bag comes in, offering golfers the perfect blend of practicality and style. In this blog post, we'll take a closer look at what golfers should look for in a light and practical golf bag, and why the Ping Hoofer Lite Stand Bag is a great choice for any golfer.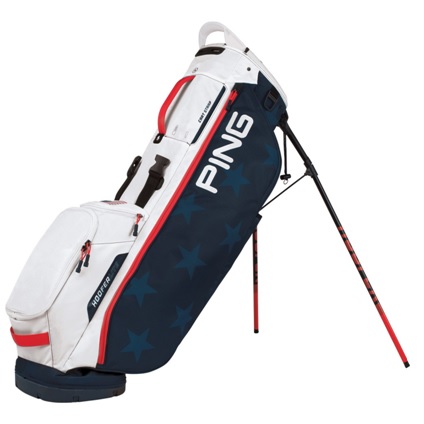 Consider the Weight
When it comes to golf bags, there are a few key things to consider. First and foremost, you want a bag that is lightweight and easy to carry. A lighter bag can help reduce fatigue during the course of a round, allowing golfers to focus more on their game and less on carrying a heavy load. This can be especially true for golfers who prefer to play alone (without a caddy), as well as walk the course rather than ride in a cart. A heavy bag can put strain on the back, shoulders, and legs, which can negatively impact a golfer's performance.
The Ping Hoofer Lite Stand Bag ticks all these boxes and more. Weighing in at just 4.8 pounds, it's one of the lightest stand bags on the market, making it easy to carry around the course all day. The bag's adjustable shoulder straps are well-padded and comfortable, and the innovative strap connector allows for easy adjustments to fit golfers of all sizes.
Another practical reason to choose a lightweight bag is that it can make travel much easier. Many golfers enjoy playing on courses outside of their hometown, and traveling with a heavy bag can be a hassle. Lightweight bags are much easier to transport, whether it's on a plane, in the trunk of a car, or even just carrying it from the car to the course.
Finally, many lightweight bags, including the Ping Hoofer Lite, come with ample pockets and storage options, allowing golfers to carry all the essentials they need on the course without weighing themselves down with unnecessary items. This means golfers can spend more time enjoying the game and less time rummaging through a heavy bag searching for their tees or golf balls.
The Importance of Durability
You also want a bag that is durable and able to withstand the elements, with plenty of pockets for your clubs, balls, tees, and other accessories. And, of course, you want a bag that looks good and reflects your personal style.
In terms of durability, the Ping Hoofer Lite Stand Bag is made with high-quality materials that can withstand the wear and tear of regular use. The bag's four-way top has anti-flex walls to ensure your clubs stay protected, while the reinforced bracket with leg stop ensures the stand stays sturdy on any terrain. And with seven pockets, including a waterproof valuables pocket and an insulated cooler pocket, you'll have plenty of space to store all your golfing essentials.
More than Just a Simple Bag
Choosing a golf bag with a design that reflects your personality and interests can actually affect your mental state and overall game. The right design can give you a boost of confidence and make you feel good about yourself, which can in turn positively impact your swing and performance on the course.
The Ping Hoofer Lite Stand Bag isn't just practical – it's also stylish. The bag comes in a range of color options to suit any golfer's taste, from classic black and white to bolder colors like teal, lavender, and magenta. The bag also comes in both a sleek and minimalist design, as well as more groovy designs like the White Tropic. Nevertheless, both styles are functional and aesthetically pleasing, making it a great choice for golfers who want a bag that looks as good as it performs.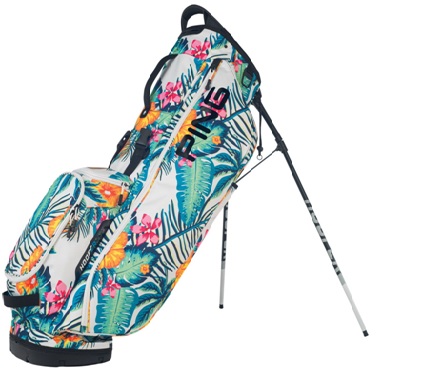 Additionally, if you are someone who likes to coordinate their golfing attire with their bag, there are plenty of colors and patterns to choose from that will match any style. Having a stylish golf bag can also make a statement about who you are as a player. Ultimately, the design of your golf bag is a personal choice and should be based on your preferences and style. Whether you choose a bold and bright color or a subtle and sophisticated design, the Ping Hoofer Lite Stand Bag offers a range of options to cater to every golfer's taste. By selecting a bag that suits your personality and interests, you can feel confident, focused, and ready to tackle the course.
Get Only the Best Golf Bags Online!
In conclusion, investing in a Ping Hoofer Lite Stand Bag is an excellent decision for any golfer who wants a lightweight, practical, and stylish option to carry their clubs on the course. The bag's numerous features, such as the cushioned straps, comfortable handle, and easy-to-use stand system, will help keep golfers' focus where it needs to be: on their game. And by choosing a design that reflects their personality and interests, golfers can take that mental edge with them onto the course.
At JustSayGolf.com, we offer a variety of Ping Hoofer Lite Stand Bags to suit every taste and preference. And, while you're there, check out our selection of golf clubs, balls, and accessories to help take your game to the next level. Shop now and experience the benefits of a Ping Hoofer Lite Stand Bag for yourself!