Categories
Categories
Brands
Brands
Product Description
Cobra King F8 Driver - 2018 Cobra Driver
Buy the Cobra King F8 Driver and other Cobra golf clubs at the lowest price from Just Say Golf. The Cobra King F8 Driver has the hottest face Cobra has ever made in a driver. Get the Cobra King F8 Driver with free shipping from Just Say Golf.
Welcome the NEW Cobra King F8 Driver to your bag.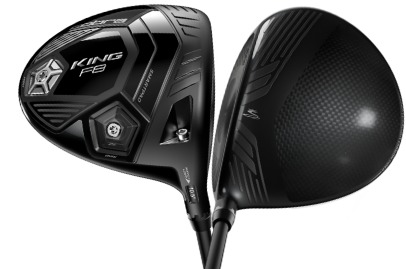 The new Cobra drivers are packed with tons of technology that will allow you to get the most out of your round. The New F8 driver has been redesigned to get more speed, and forgiveness. With a oversized shape, and maximum forgiveness you want. Get the NEW Cobra F8 Driver and become a believer.
Sleeker look and Milled Face. By using aerodynamically designed Polymer trips around the perimeter of clubhead, Cobra can reduce drag and help to maximize club speed. What's waiting for you at impact is a first for the Cobra brand in drivers. A CNC E9 Milled face is the hottest, thinnest, and most accurate ever.
Precisely placed Sweet Zone with the CG right where you need it. Over 25,000 shots tested indicate that shots on drivers are hit elliptically from low heel to high toe. Cobra recognizes this pattern. Which is why the E9 technology was put in just the right spots around the center of the face. Now you have a larger sweet spot, along with back and heel CG locations.
Never wonder how far you hit it or where it went. Cobra connect powered by Arccos will take care of all that for you. A stationary chip in the butt end of the driver allows you to track your performance and help improve your game. Now available in Cobra King F8 drivers, fairways, and yes, even the irons.
Changing your loft has doesn't require a degree. Cobra uses their MyFly8 with Smartpad makes choosing the right loft a breeze. You'll have 8 different options to choose from, and all identified specifically by the actually loft. Not a hash mark or line requiring you to do the math. Most importantly, no matter what loft you choose, SmartPad will always keep the face square at address.
Cobra F8 Driver Specifications:
| | | | | | |
| --- | --- | --- | --- | --- | --- |
| LOFT | CG ADJUSTABILITY | LENGTH | SWING WEIGHT | FLEX | DEXTERITY |
| 8° - 11° | BACK/HEEL | 45.75 | D1 | S/R/LITE | RH/LH |
Just Say Golf Does Custom:
Custom options are always available from Just Say Golf, many of them for FREE. If you don't see what you need, give us a call and we'll make it happen:
865-325-9673
Look for the rest of the Cobra F8 and F8+ line at Just Say Golf. Check out the full line here:
Cobra F8 ONE Irons
Get informed about the latest golf gear on the JSG Golf Gear Blog.
Warranty Information
Other Details
Find Similar Products by Tag
Product Reviews
Find Similar Products by Category
Customers also viewed