Categories
Categories
Brands
Brands
Cobra F-MAX Offset Driver
Product Description
Cobra F-MAX Offset Driver - Offset Cobra Driver
Get the Cobra F-Max Offset Driver and other Cobra golf clubs from Just Say Golf. The Cobra F-Max Offset Driver is the next in a line of extremely forgiving, high-performing golf drivers from Cobra Golf. Cobra golf clubs at the lowest price, with free shipping from Just Say Golf.
The Cobra F-Max Offset Driver is a high launch, fast swinging, incredibly forgiving new driver from Cobra Golf. The F-Max Offset provides maximum Draw-bias for those who tend to fade a little too much. If you play golf at moderate club speeds like most of us, the F-Max Driver is for you. You don't have to swing like Ricky Fowler to launch the golf ball high and long with the F-Max. With Cobra's ultralight technology integrated into the F-Max driver, it swings fast and easy so you don't have work as hard for a great drive. As the Cobra team might say, the F-Max puts the MPH in "OOMPH."
The bottom line on the Cobra F-Max Driver is that is light, forgiving, swings easily, launches high. This is a club for people who like to keep golf fun and not have to over think technical details. The people just want to hit good shots. Maybe it's for the higher handicap player or maybe not; nobody's problem is "too much forgiveness." Here's what Cobra's own VP of Research and Development said about the F-max Driver:
We are confident that the design of the F-MAX Driver, Fairways and Hybrids will make it easier for moderate swing speed players to create launch which is the key for performance, and get the ball airborne more quickly, hitting it farther and straighter than ever before. - Tom Olsavsky
The Cobra F-Max Driver looks easy to hit because it is. That's the goal. Good shots. Here's a look at some of the technical details:
The engineers at Cobra Golf integrated 3 key components to their ultralight technology for the F-Max driver:

A. A larger, mid-sized grip provides a more comfortable grip for less tension in the arms through lighter grip pressure and a slight decrease in the club's effective swing weight.
B. The cobra SuperLite shaft decreases the clubs overall static weight for a boost in clubspeed.
C. Crown alignment not only looks great, but it helps you square it up for solid contact and consistent energy transfer from club to ball.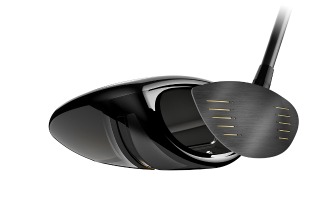 F-Max Face Technology: Cobra has long had one of the best driver faces in golf, and now in the F-Max, that face is even more forgiving and produces a hotter ball speed than ever. The 6-4 Titanium alloy is thin for both speed and forgiveness. That's a winning combination. Mishits are no longer a problem, with this kind of forgiveness you'll hit more fairways.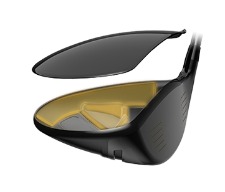 Heel-to-Toe Weighting: One of the keys to the Cobra F-Max Driver's incredible accuracy is the extreme heel-to-toe weighting. With the weight moved to the heel and toe, the clubhead remains stable across the face; even if you miss it a little.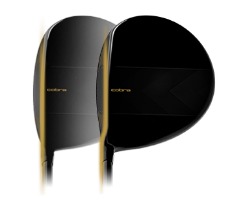 Offset or Straight Hosel: You've got options with the F-Max Driver. For those of us who "fade it" a little, there's the offset F-Max for maximum draw-bias. If you prefer a more neutral face angle, go for the straight-neck F-Max. Dial it in to your game.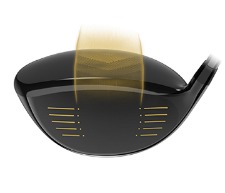 Crown Alignment: We could all use a little help setting up from time to time. With Cobra's new crown alignment aid, you'll never have to wonder if you're setting up straight again.
Cobra F-Max Specifications:
| Loft | Length | Swing Weight | Volume | Stock Flex | RH/LH |
| --- | --- | --- | --- | --- | --- |
| 9.5º | 45.50" | D3 | 460cc | S, R, Lite | RH |
| 10.5º | 45.50" | D1 | 460cc | S, R, Lite | RH/LH |
| 11.5º | 45.50" | D0 | 460cc | S, R, Lite | RH |
Cobra F-Max Shafts: The F-Max/Cobra SuperLite Driver Shaft.

Cobra F-Max Stock Grip: F-Max Lamkin REL Midsize. Custom grips available at no extra charge from Just Say Golf.

Find Similar Products by Tag
Product Reviews
Find Similar Products by Category
Customers also viewed